HELLO MAGAZINE EDITORS. Welcome to my houses & makeover portal.
Below is a selection of homes and makeovers. If you're interested in any of the projects below email me at maxinebradyis@googlemail.com Tell me the homeowner name as detailed below – and I will send you the pictures and my homeowner info.
All the houses & makeovers you see below are active. I've clearly stated if these are the finished images or reccky shots.
When a house is sold, it will be removed from the portal. I'll be updating it frequently, so if you have a space for a home that needs a quick turn around, come visit this page (or email me for the link).
When it says 'Photographer TBC' – I've not allocated a photographer as yet. I'm open to suggestions on who to shoot it with. With rights it depends on the fee for the feature, I can be flexible. Copy can be turned around at short notice.
Video content is available for some of the houses for you to use on-line as part of a house tour for an additional fee.
All shoots will comply with strict social distancing regulations and following health and safety guidelines.
---
HOUSES
---
NEW! Zoe Ransley, FOlkestone, Kent
Zoe and Gavin started our own property management and maintenance business in 2020. A 1930's semi detached coastal home. Bought as a 3 bed semi and converted the loft to make it into a 5 bed home. Now has 5 bedrooms, 3 wc/bathrooms, 2 reception rooms a kitchen, a large entrance hall and porch. Have got befores of the house – including the kitchen, if wanted as a kitchen makeover.
NEW! HOUSE: DAWN HARVEY
We renovated 5 bedroom 1850's country house. A formers Doctor's house, with the surgery next door, the building was converted into two dwellings in 1947.
Before: exposed asbestos, lagged central heating pipes, rotten timber framed windows, a spooky loft with a fly infestation, two "pink 70's" bathrooms as well as a 70's formica kitchen which had seen better days and a whole cosmetic overhaul needed. This was coupled with the fact that the house had not been occupied for 17 years.
HOUSE: Tierney Terrace, S. London. Photos Chris Snook.
Second rights house – shot by Chris Snook. Appeared in Real Homes in 2019. Young couple – now used as a location house & music recording studio. Lots of before shots. We can go back and reshoot if you need for pages.
HOUSE: Fong, Lewes. Photos David Woolley.
Full renovation project undertaken by this young family in a beautiful Georgian House in central Lewes.
FINISHED IMAGES:
---
CHRISTMAS HOUSE
---
Mette, Shoreham. Photos David Woolley
Beautiful modern seaside home in Shoreham. Nordic. Minimal. Family home. The house has previously appeared in Ideal Home in 2016 as a house feature. But the house has changed in terms of furniture since then.
We have before photos and break down of the costings – email me for the homeowner form. Could work as a full house – or as a kitchen extension feature for a Christmas issue.
FINISHED IMAGES:
---
Emily Mason, Worthing, Shot.
House was featured in House Beautiful in 2019 but has been re-shot for Christmas in 2020.
---
KITCHEN & BATHROOM MAKEOVERS
---
PINK & GREEN / LUANDA
This lovely luxury country new build home in Seven Oaks went for a frame shaker kitchen. All the cabinets are hand crafted in Birch ply wood. The doors are meticulously hand painted. The crisp clean quartz work surface tops it off nicely. With a hidden walk in pantry.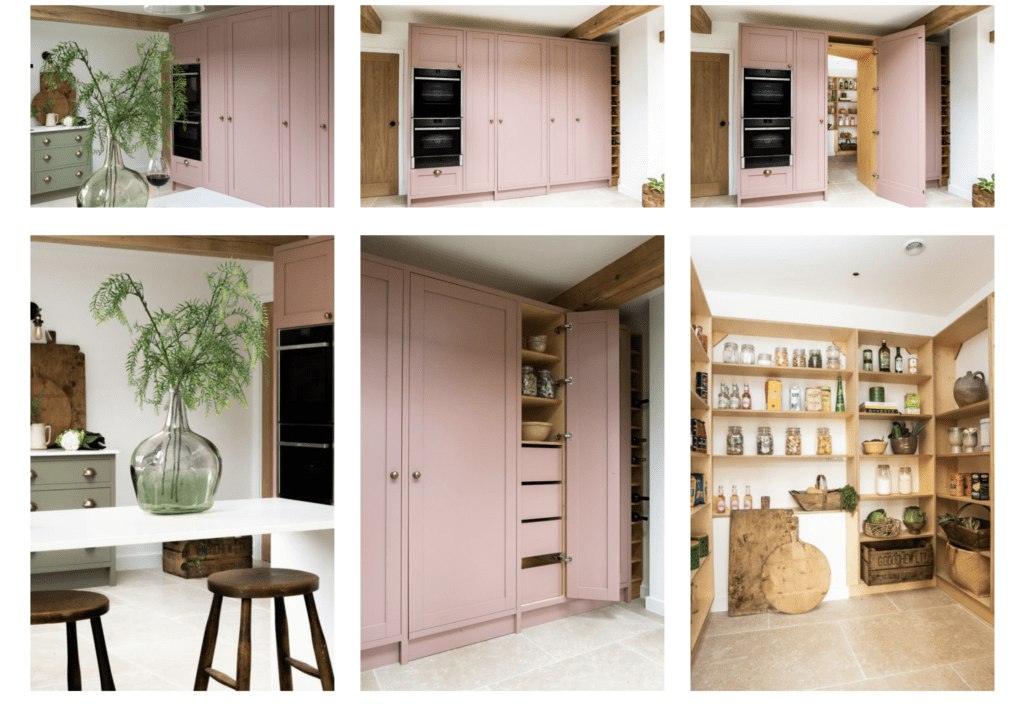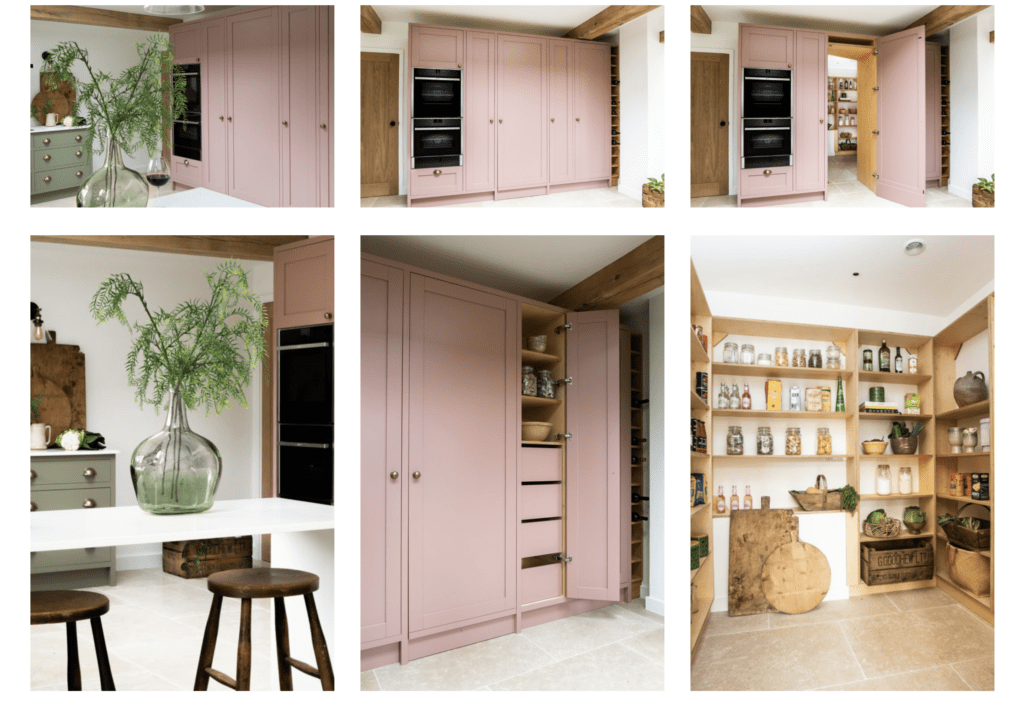 Ucycled Oak with rubber finsh / LUSAKA / New Build
Sally absolutely fell in love with the idea of using up cycled oak from old barns and railway sleepers from France. Her Wood Works kitchen used 100% rubber as a finish for the island doors. The work tops are a beautiful black granite with a hidden pull out trolly underneath the island.
"Loved creating and designing our kitchen, wardrobes and many inbuilt units into our New build house which does not have any 90 degree angles with Wood Works of Brighton. Francois Design and Adam Build very professional and the finished product is fantastic. All being done through a pandemic but finally all finished. Have more for them to do but will wait for the spring."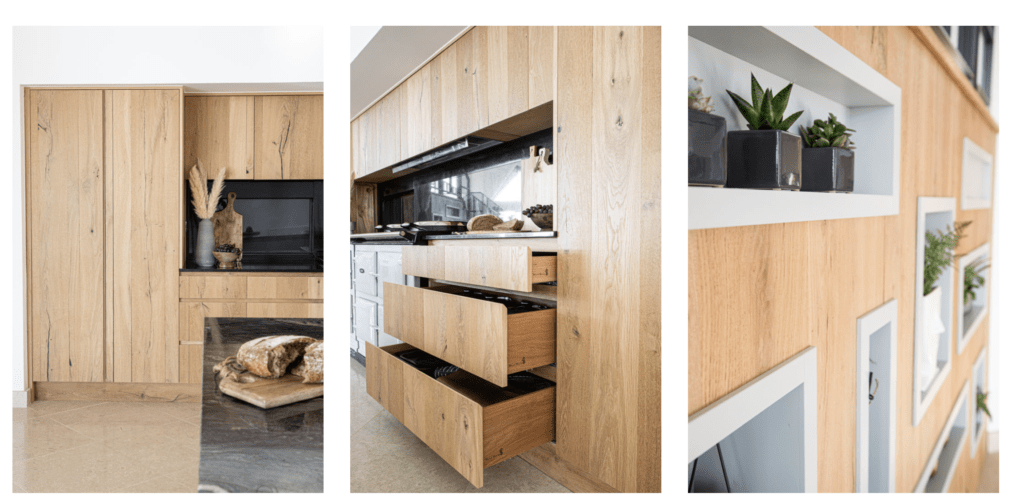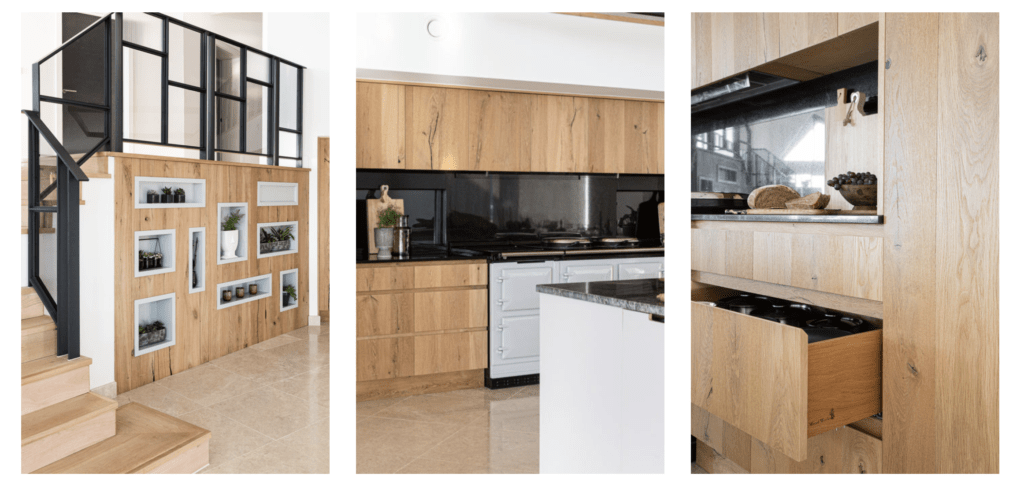 NEW! MAKEOVER – Nazia and Asif Govaria kitchen BAME, Leicester
Costing: Kitchen units and appliances approx 39k from Home interiors Leicester including appliances, worktop and solid wood island
Excludes: cooker, light fittings & accessories
NEW! DEAN MILLER – Kitchen, Isleworth
Schmidt / £23k in total plus £2,450.42 flooring & £2,094 worktop (not including windows)
Stacey, Surrey. Photos TBC
Kitchen renovation – family home. New extension into garden to double the size of the kitchen.
Kitchen makeover, Toomey in Swindon. Photos David Parmiter. SHot & ready to go
Kitchen renovation. Has appeared in Homebuilders & Renovating magazine. Will be reshot on commission.
New! KItchen Makeover. Kelly Peters, East Sussex.
Country style cottage kitchen. £30K costs
NEW! Kitchen makeover. David & Sarah, Brighton. Photos tbc
COSTS: kitchen – 15-16k appliances – 1,6k sink/tap – 300 worktop/splashback – 2k flooring – NA (entire bottom floor done) lighting – 400 furniture – NA kitchen – 15-16k appliances – 1,6k sink/tap – 300 worktop/splashback – 2k flooring – NA (entire bottom floor done) lighting – 400 furniture – NA
KITCHEN MAKEOVER: Claire, Hove. Photos David Woolley
Family modern kitchen renovation project in a basement. With cupboards made from Ply. Clever low open shelving, pocket door laundry room, hidden lighting in the staircase, flush fronted units. I have the before shots & the costings to send over. Cost aprox £11K.
FINISHED IMAGES:
---
Living room & bedroom makeovers
---
MAKEOVER: Living Room, Kel, Bristol. Photos Colin Poole
Reccy shots: