Installing bifold and sliding doors can completely transform the look of your home! But how do you choose a design that best suits your house? With the help of bifold and sliding door experts – Kloeber I'm sharing 9 design ideas. I know that you are going to love them all!
Bifold and sliding doors make a modern addition as part of an extension or renovation project. They come in a huge range of designs. All their doors can be customised to fit a conservatory, kitchen space, dining room or even a home office. I've rounded up 9 stylish bi-fold and sliding design ideas to inspire you.
Bifold and sliding doors: 9 gorgeous design ideas

Great for open-plan living
With more of us spending time at home, our houses serve many purposes. From where we cook, entertain, our children play – or even where we work as dining tables become the new home office. Installing bifold or sliding doors in a multi-functional room – allow our homes to flow. And bifold and sliding doors are the perfect way to elevate a home too.
In this stunning conversion, the black frames of the doors match the beams of the vaulted ceiling. Your eye is drawn to the garden at the end, pass the TV and play tent. A clever trick for busy homes.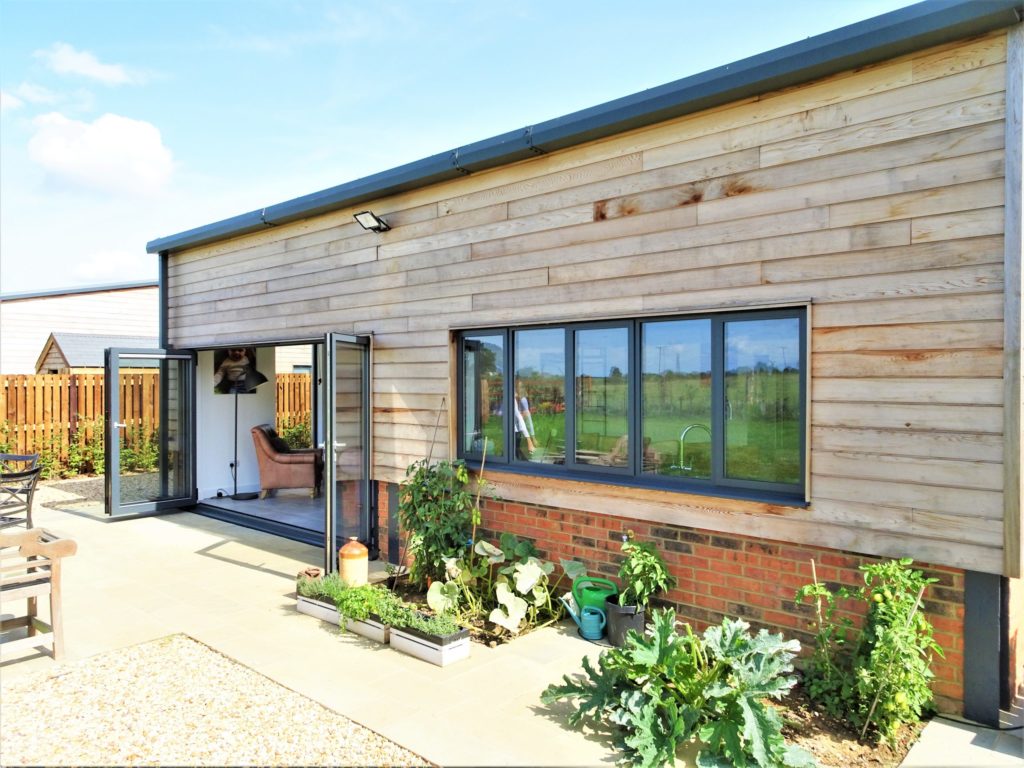 Use contrasting materials
When choosing your new bifold or sliding doors, consider how they look from the outside (as well from the inside).
Here, KustomFold bifold doors in grey aluminium complement the natural wooden panelling and brickwork on the exterior of this home. The mix of the three materials creates an organic design that will complement your garden's greenery.
Installing chic looking bifolds is a clever design solution if the exterior of your house is not looking it's best. It's a fab idea for covering up ugly pebble dash! Look how smart this home looks and how joyful the garden is positioned right under the kitchen window.
Convert unusual properties
Have you always dreamed of building your own home? Take a look at these aluminium KustomFold bifold doors on this floating container home that was featured on Channel 4's Amazing Spaces (a TV show I worked on as a set designer). It's transformed an industrial storage solution into a super cool home with views out over the river. Hands up who loves this idea!
READ: MAKE YOUR KITCHEN LIGHTER AND BRIGHTER WITH THIS ONE TRICK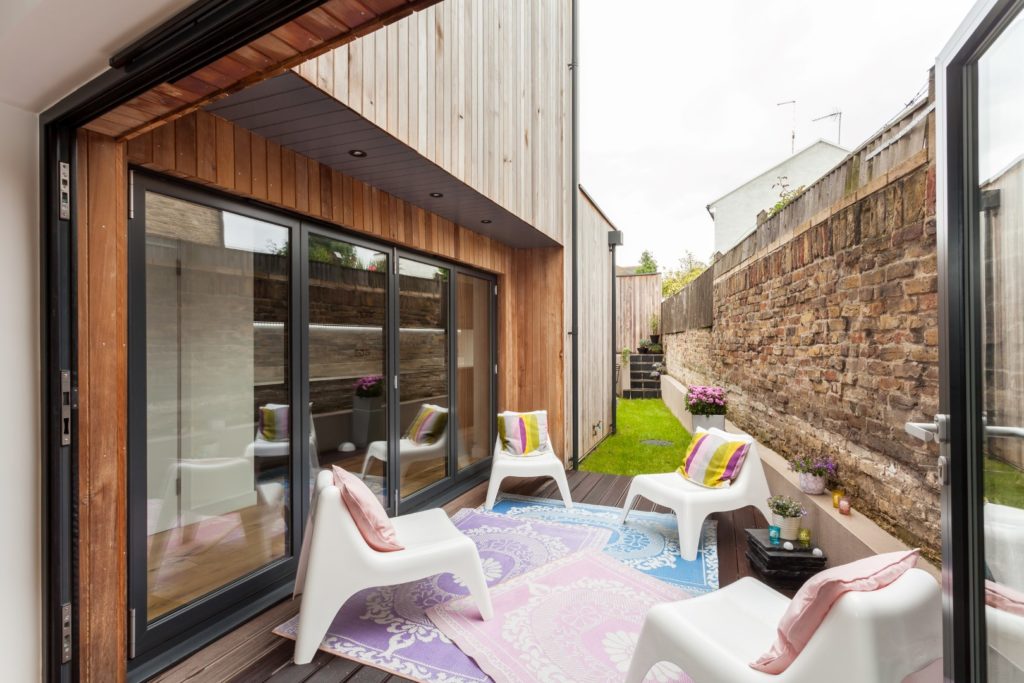 Connect different areas
Homes with a tricky or challenging layout can be utterly transformed with a clever use of bi-fold or sliding doors. Here, a previously underused corner of a garden is now a hidden den. And two indoor rooms have been seamlessly connected using aluminium bifold doors either side.
Have you got a usual corner of your home that could work so much better with bifold doors? I know I do. I'd love to open up my side return on my own home like this to create a cosy outdoor area.
READ: 4 STYLISH WAYS TO DRESS YOUR WINDOWS THIS WINTER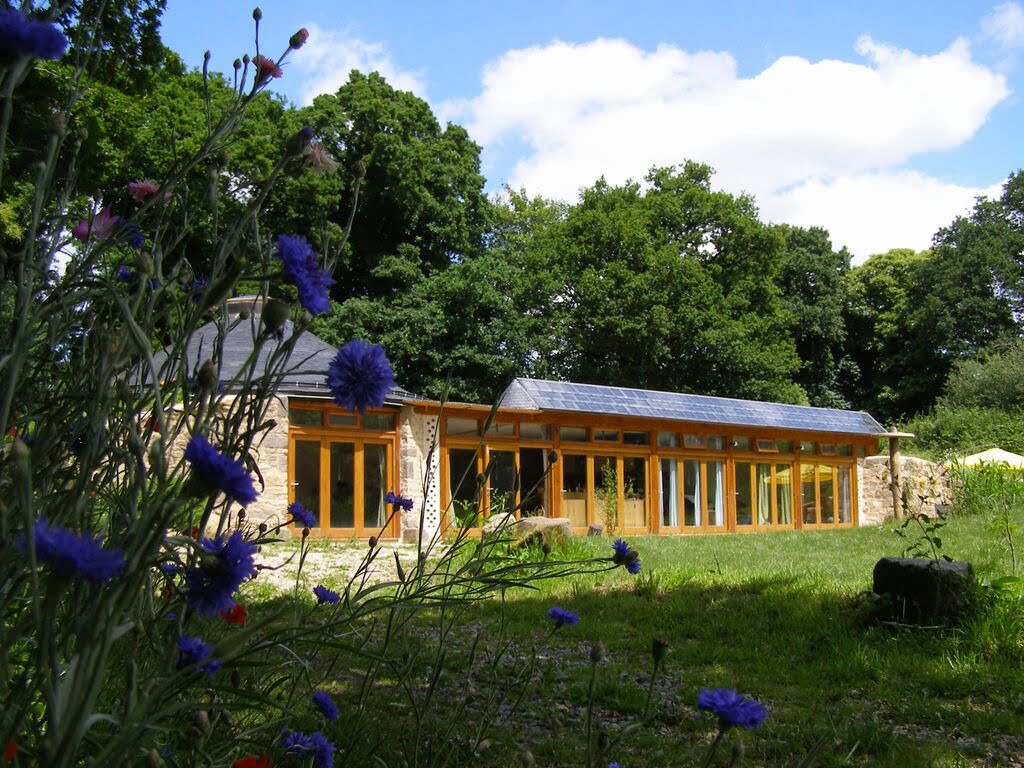 Be sustainable
This has to be my dream home! Just look at all the natural light flooding into this home! The natural wooden frame works so well with the brickwork and the organic garden.
This beautiful sustainable home in Brittany, France had bifold and sliding doors installed that are made from FSC certified timber EuorFold bifold doors. This is a great sustainable option if you are looking at how to integrate eco-friendly options into your build.
Co-ordinated colours
This is a perfect example of how bifold doors can become a key part of your internal design. Here, EuroFold aluminium bifold doors in anthracite grey are used to match the internal colour scheme of this modern kitchen.
Pick lighting, cupboard units and a splash back in the same grey tone, then add colour with a statement chair or a vintage oriental rug.
READ: HOW TO STYLE THE LATEST WINDOW TRENDS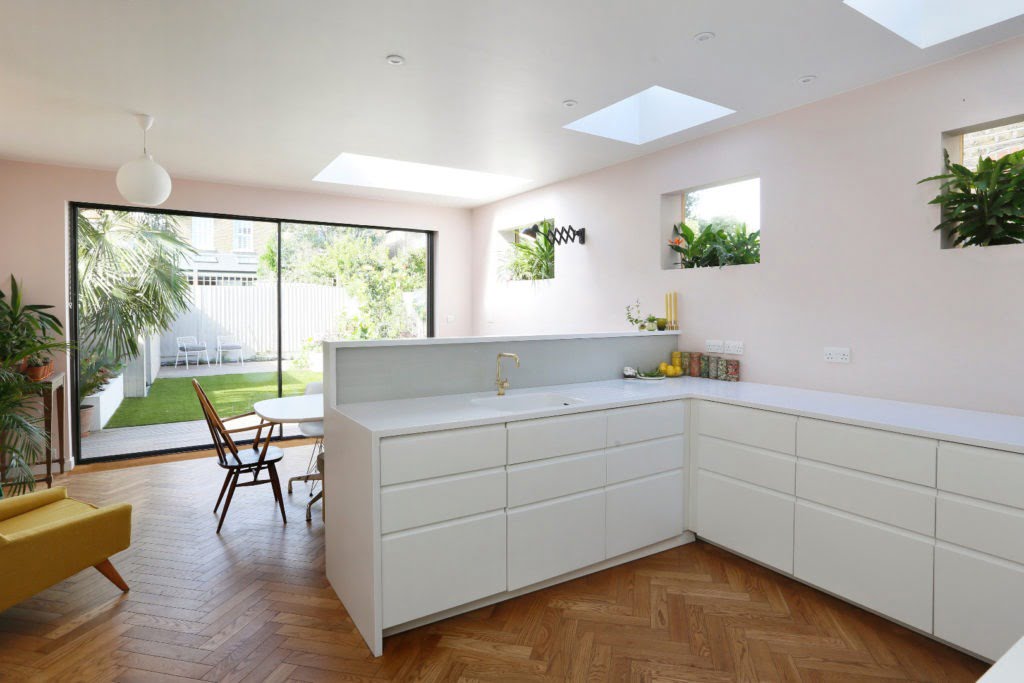 Bring the outdoors in
If you love that uncluttered look, then sliding doors could be the perfect option for you. In this modern home, the doors in this extension frame the garden area, allowing light to flood in. The view looks like a piece of art to me!
By dotting around similar plants indoors that you have in your garden will blur the lines from outside in. Try this trick at home by making sure that you add structured garden planting into your interior design.
READ: BUYER'S GUIDE TO DIY WINDOW SHUTTERS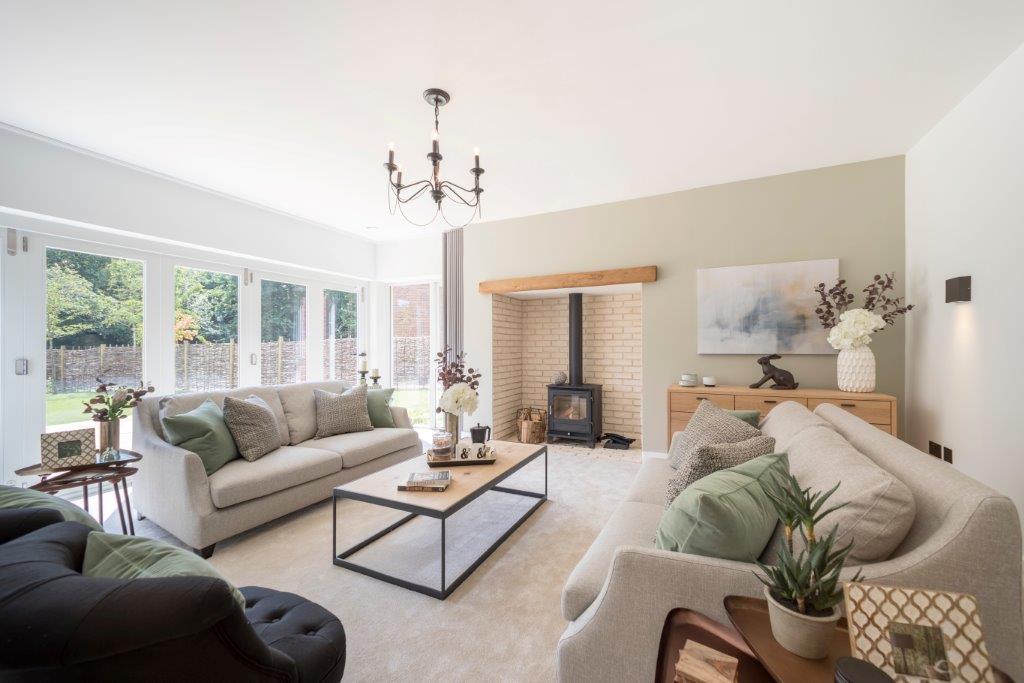 Install doors in living spaces
Bifold and sliding doors are not just for kitchen extensions. Here beautiful wooden doors in this classic living room, open out onto the garden. By placing the furniture around the stove, it creates a warm and cosy impression – which fills the room with natural daylight.
Think about installing sliding doors into living spaces for a transformative impact – whatever the look and feel of your interior.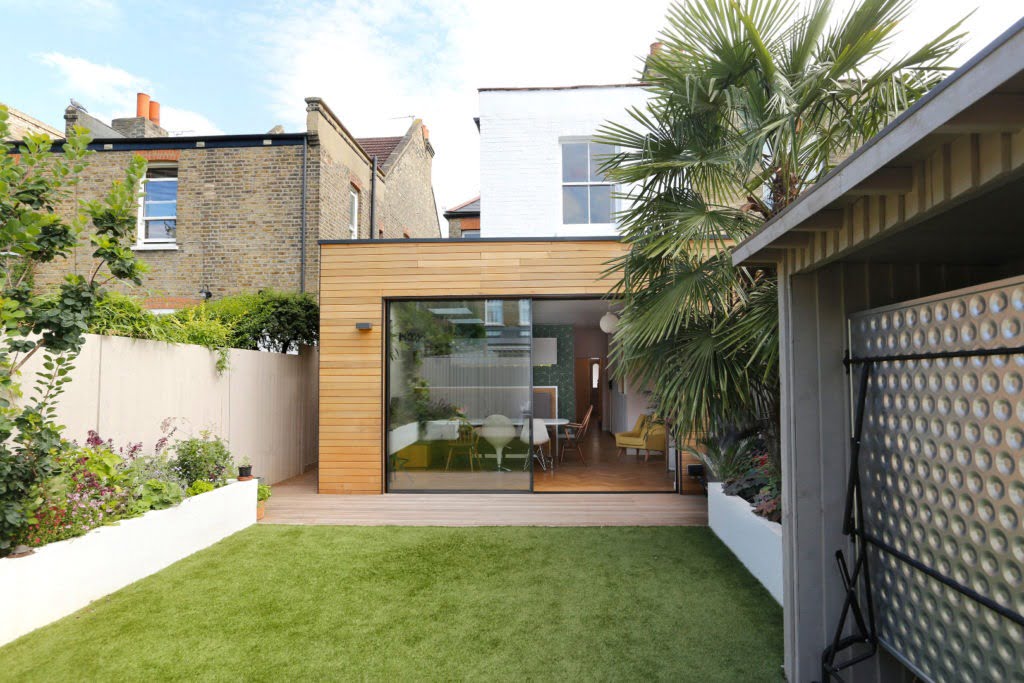 Slimline sliding doors
An increasingly popular new look for extensions is to install a minimal 'barely there' sliding door. Why? Slimline doors minimise clutter and let the natural light flood in uninterrupted. Perfect if you're looking to increase the natural light in your home! Or if you want a clean look then this is the style for you.
READ: 3 MODERN CURTAIN IDEAS FOR YOUR WINDOWS
9 gorgeous Bifold and sliding doors design ideas
Are you feeling inspired by these 10 gorgeous Bifold doors & sliding doors design ideas? I know I am!
Visit Kloeber and check out their fab blog which is full of advice to help you pick the perfect bifold and sliding doors for your home.
PIN THESE IMAGES TO SAVE FOR LATER
** This is a collaborative post. All thoughts & opinions are my own.