Small kitchen? No problem. In this post, I share my expert advice to make your kitchen look and feel amazing no matter what it's size. Follow these design tips for small kitchens to create a cool and stylish space. I've got lots of ideas that will make your small kitchen look big, stylish and fancy. Enjoy!
** Sponsored Post **
Although I daydream about have a huge kitchen with room for dancing, I have to face facts that my kitchen is small. That doesn't mean that I haven't crammed my space with loads of stylish ideas. So much so this room has been picked up by Ideal Home magazine, Style At Home, Apartment Therapy and SheerLuxe.
I'm a firm believe that just because you have a small kitchen – you can have big ideas and loads of style. I'm going to share with you my design tips for small kitchens with you by pulling out examples in my very own small kitchen makeover.
Let's rock and roll shall we!
5 DESIGN TIPS FOR SMALL KITCHENS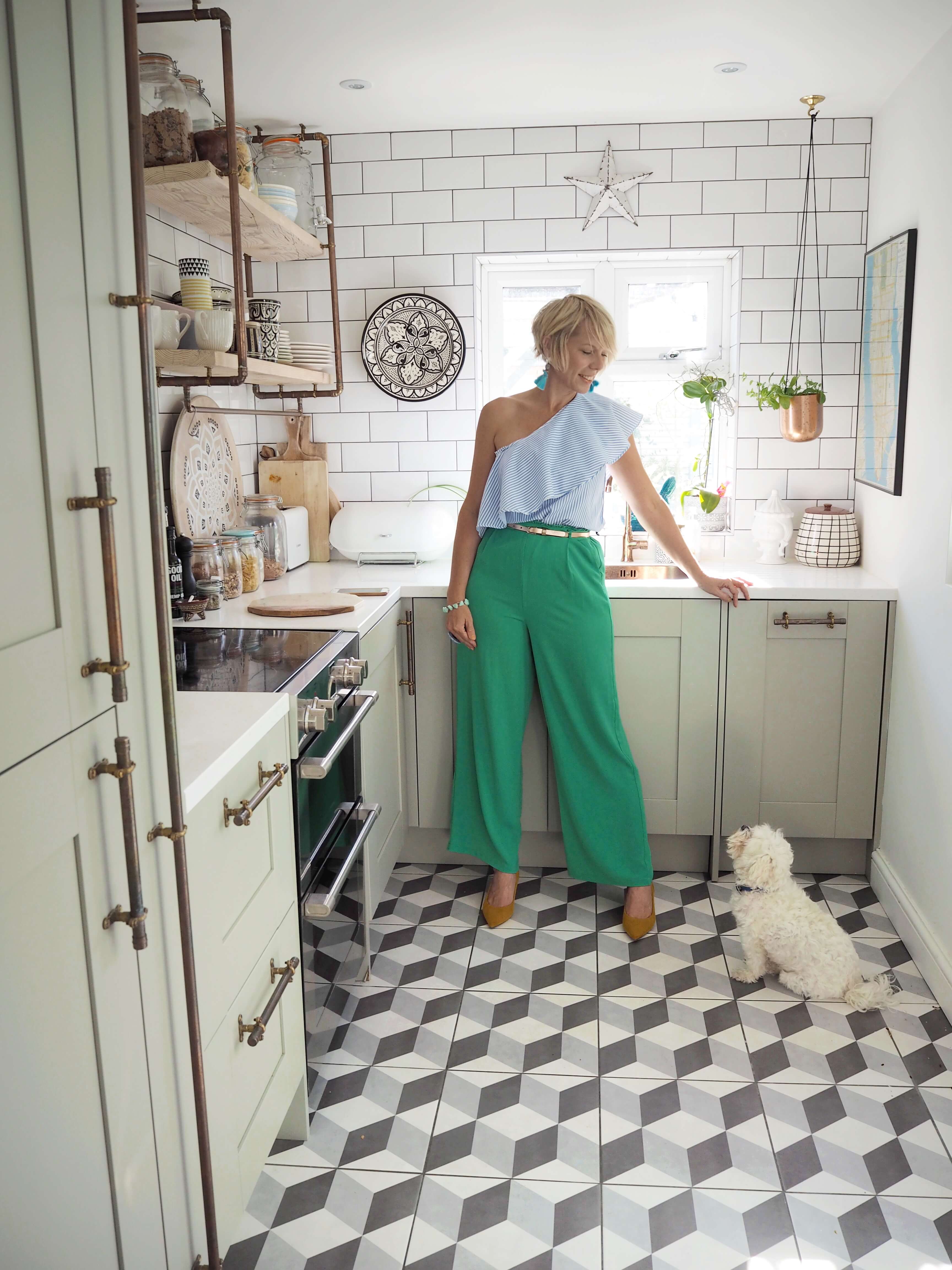 WELCOME TO MY SMALL KITCHEN
So you get a sense of how small my kitchen is… it measures just 3.60M x 2.5M. If I stretch my arms wide I can almost touch both sides of the room. When I moved in the layout was completely different which you can see in my post – kitchen makeover with befores and afters (look how blonde my hair is!)
To give you a bit of background – it's a teeny tiny space. It was very cramped with tatty old cabinets and very little in the way of practical storage. It had dark terracotta tiles and yellowing units. My sink was tucked into the left hand side of the kitchen in a corner which is a crime against design.
I knew that within my small kitchen there was great potential. And now, despite its diminutive size, I have what I would consider a comfortable amount of storage. Not only that, it's a light and bright space that I love cooking in.
Here's how I made the most of it and some ideas of what you might want to consider in your own kitchen to maximise the space you have. Follow my design tips for small kitchens to get a magazine-worthy space in your home!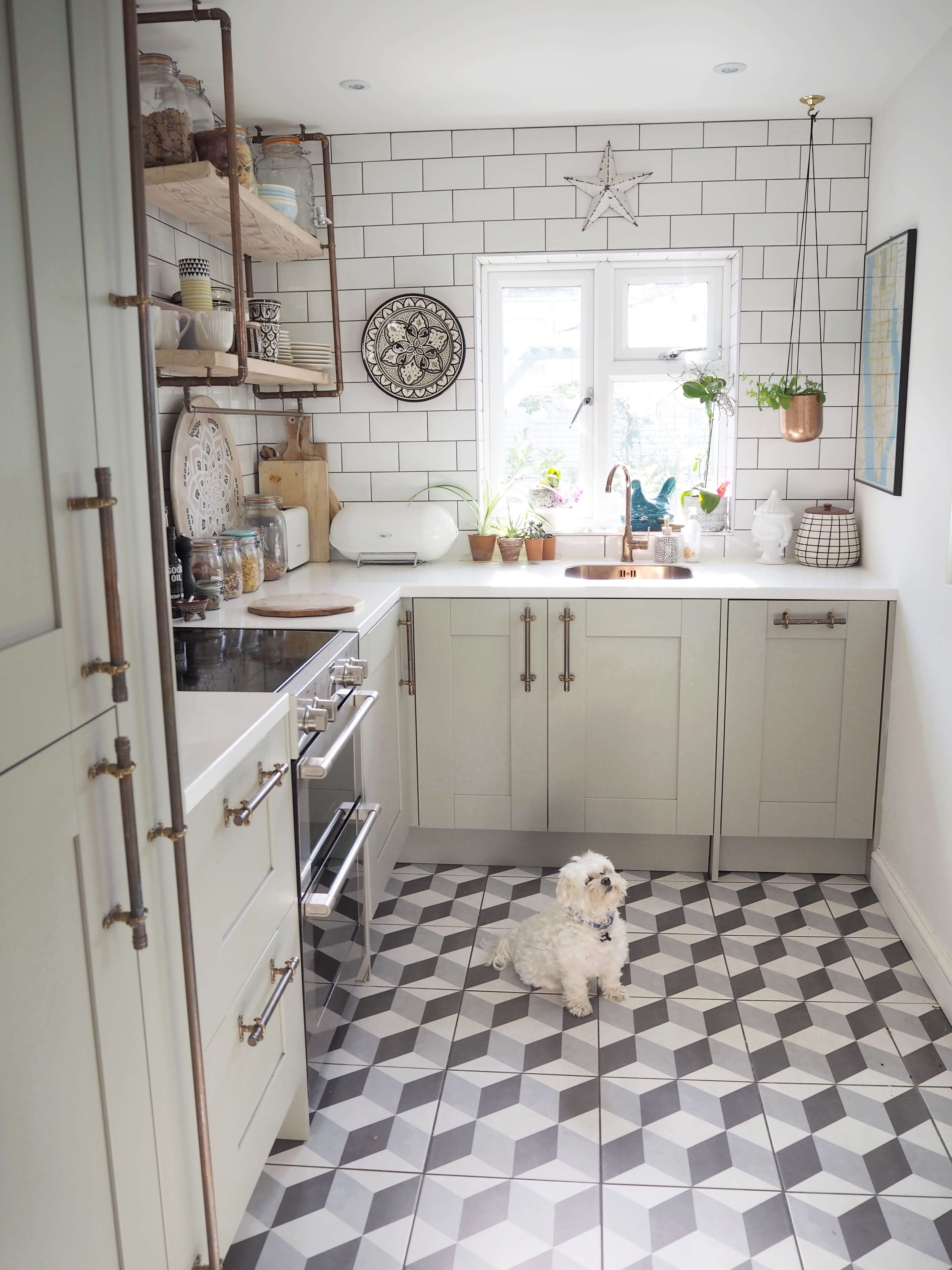 1. INSTALL OPEN SHELVING
This was probably the most important factor in terms of creating more usable storage. I'm not a huge fan of wall units. Not only do they take up too much room but visually they block out light and look cramped. Especially if like me you look down the room. All you would see on the left hand wall was a box of wall units. They would have been a terrible use of space in my small kitchen.
I went for bespoke shelving that I had made in copper to match my handles. The shelves are 32cm deep and made from thick, strong scaffolding boards. They are screwed into the joists in the ceiling and the wall for extra strength and these bad boys hold so much – jars of food, plates, mugs, bowls, dishes, trailing plants…
Now, I love open storage in a small kitchen but I realise that it can divide opinion. Yes, my glass jars do get a bit dirty from cooking steam. BUT THAT IS THE ONLY DOWNSIDE. No more rummaging around in the back of cupboards for that can of beans!
And another truth is that open shelving is cheaper than wall cabinets, and it can be easily customised to fit the space you have so they stretch across the whole wall.
Want to save money on your kitchen renovation? Try buying second hand or looking on line to find affordable and cheap kitchen cabinets for the lower section of your design, and then put up wall shelving cutting your kitchen costs in half.
STYLE TIP: DECORATE YOUR KITCHEN WITH WALL STICKERS
If you want to add personality to your kitchen in a quick and easy way, have your thought about custom wall stickers? You can choose from a range of slogans or pictures to reflect your personality. They are great stuck behind shelves or inside cupboards, on features walls or even ceilings. I choose this one for my own kitchen – don't you think it injects fun into a kitchen space?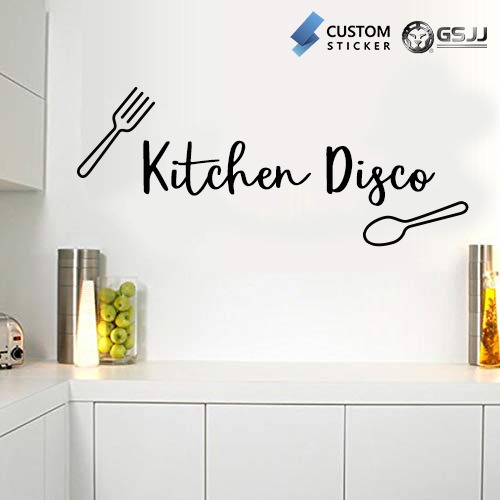 Read on for more design tips for small kitchens >>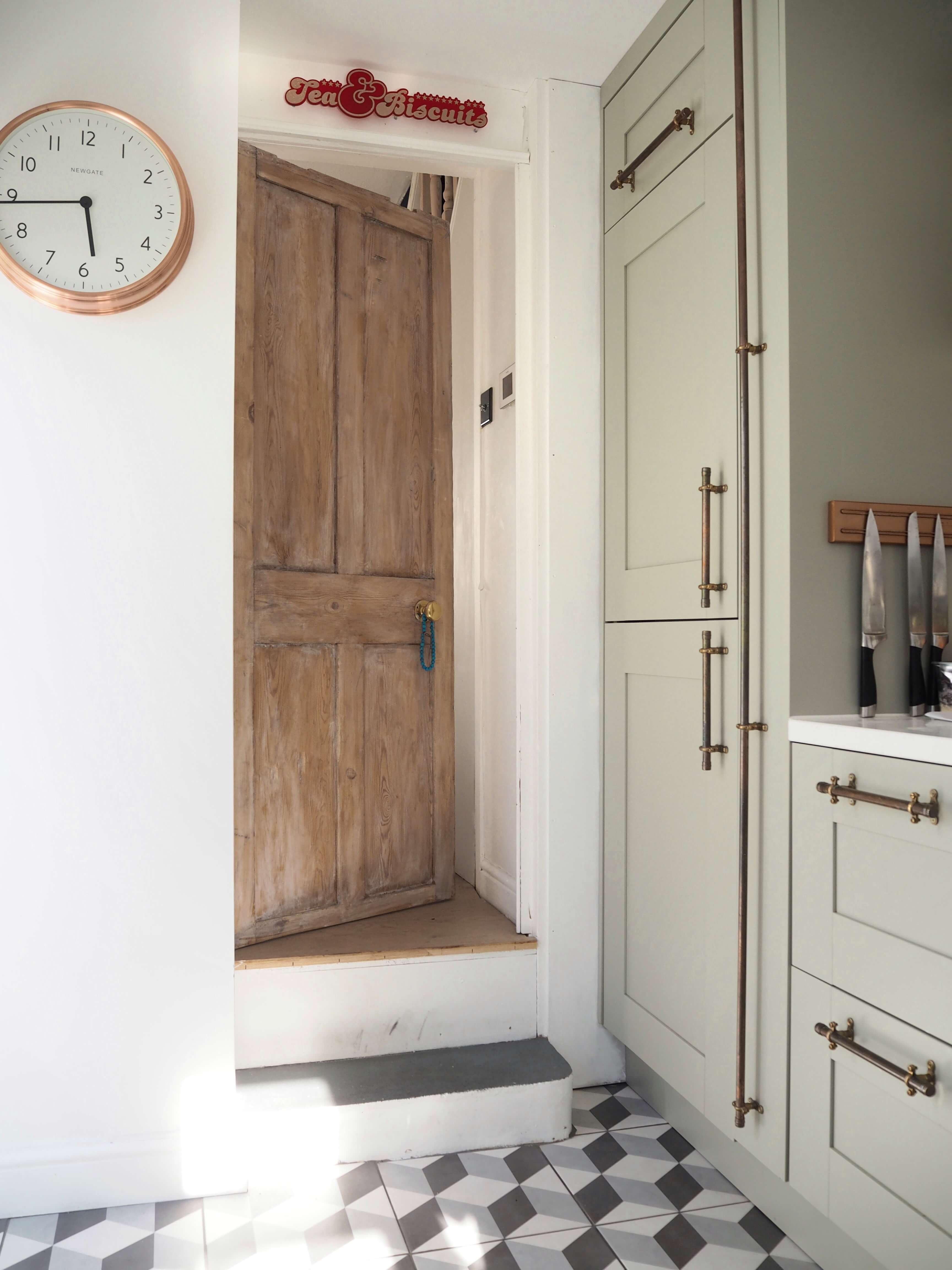 2. INSTALL VERTICAL STORAGE
If there is one thing I am constantly asked about by my followers on Instagram, it's about the long, tall, thin vertical storage drawer that I installed between the my fridge and the pull out drawers. You can see it in the photo above. The one with the handle from top to bottom.
When my kitchen designer measured up for my kitchen cabinets, he found there was a space measuring 15cm. We designed a pullout drawer that reached from floor to ceiling and inside there are six shelves. They measure 46cm deep.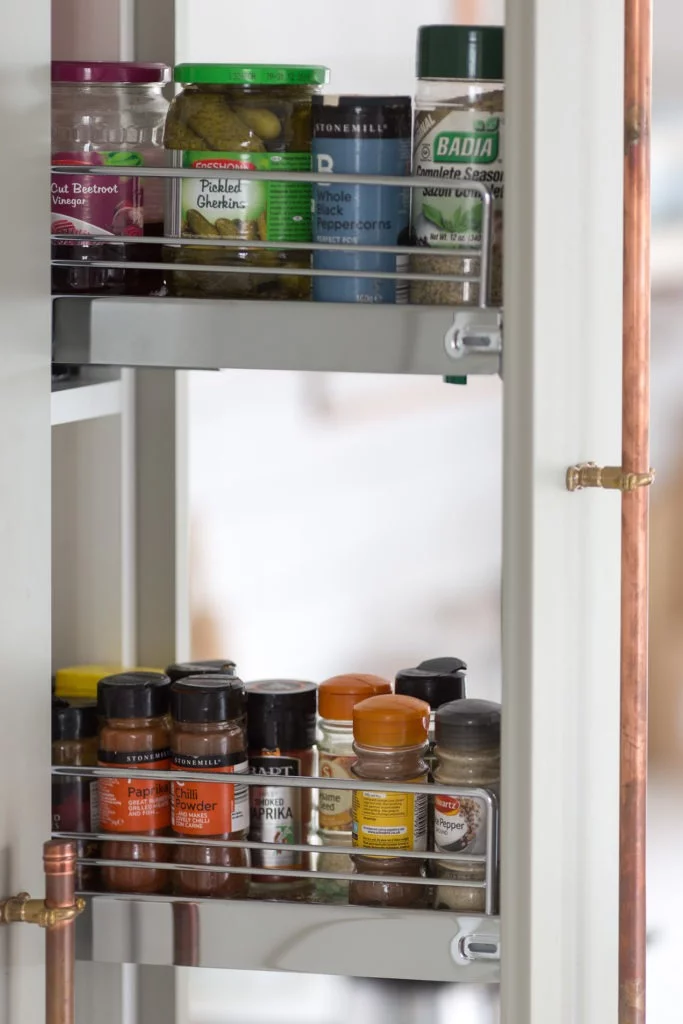 This is my wonder space saving larder drawer! Inside this slim bit of space, now houses all my spices, cooking oils, jars of nuts and seeds, chillies, flour, sugar, baking sofa, pickled beetroot…all that stuff that take up cupboard space in a kitchen. I love to cook yummy vegan food packed full of spices.
As I could only fit two smaller drawers in my kitchen, this slimline drawer is the bomb! This space could have so wasted in the original design. And instead it makes my small kitchen work twice as hard.
Make sure your kitchen designer creates something like this that really works.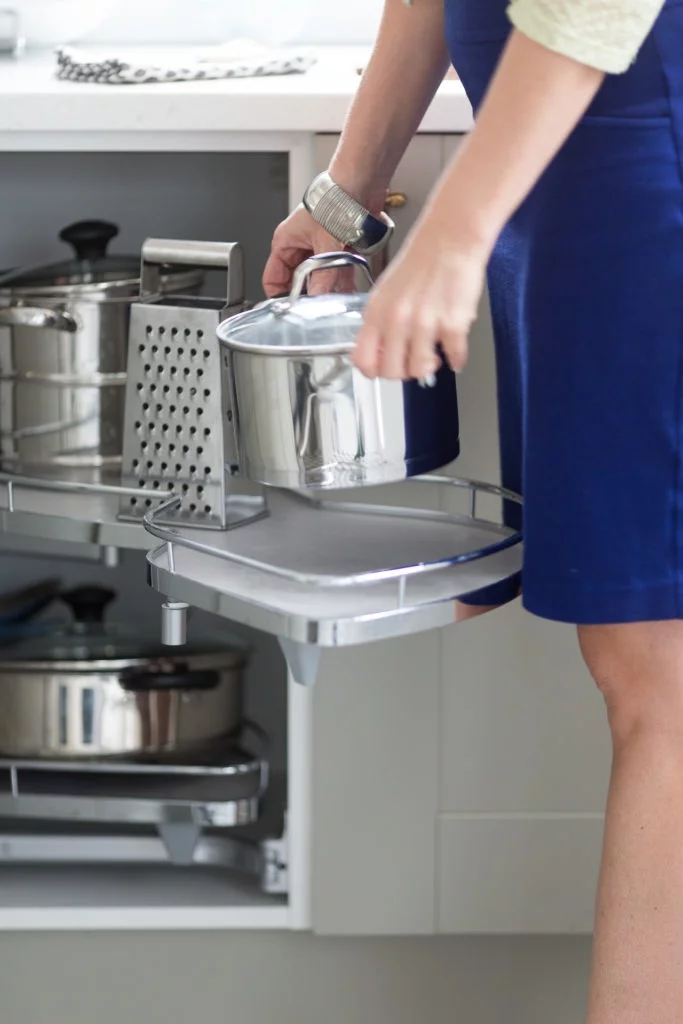 3. INCLUDE LAZY SUSANS FOR CORNER CABINETS
Installing rotating circular shelves in a small kitchen makes great use of the dead space of a very deep corner cabinet and nothing will get lost at the back. Ikea sells them for around £60 and they can be retrofitted into your existing cupboards. How cool is that?
This one trick turned a tricky corner into a kitchen unit that really works harder. No digging around at the back to get to that pan you need. It simply pulls out and there is everything you need within easy reach.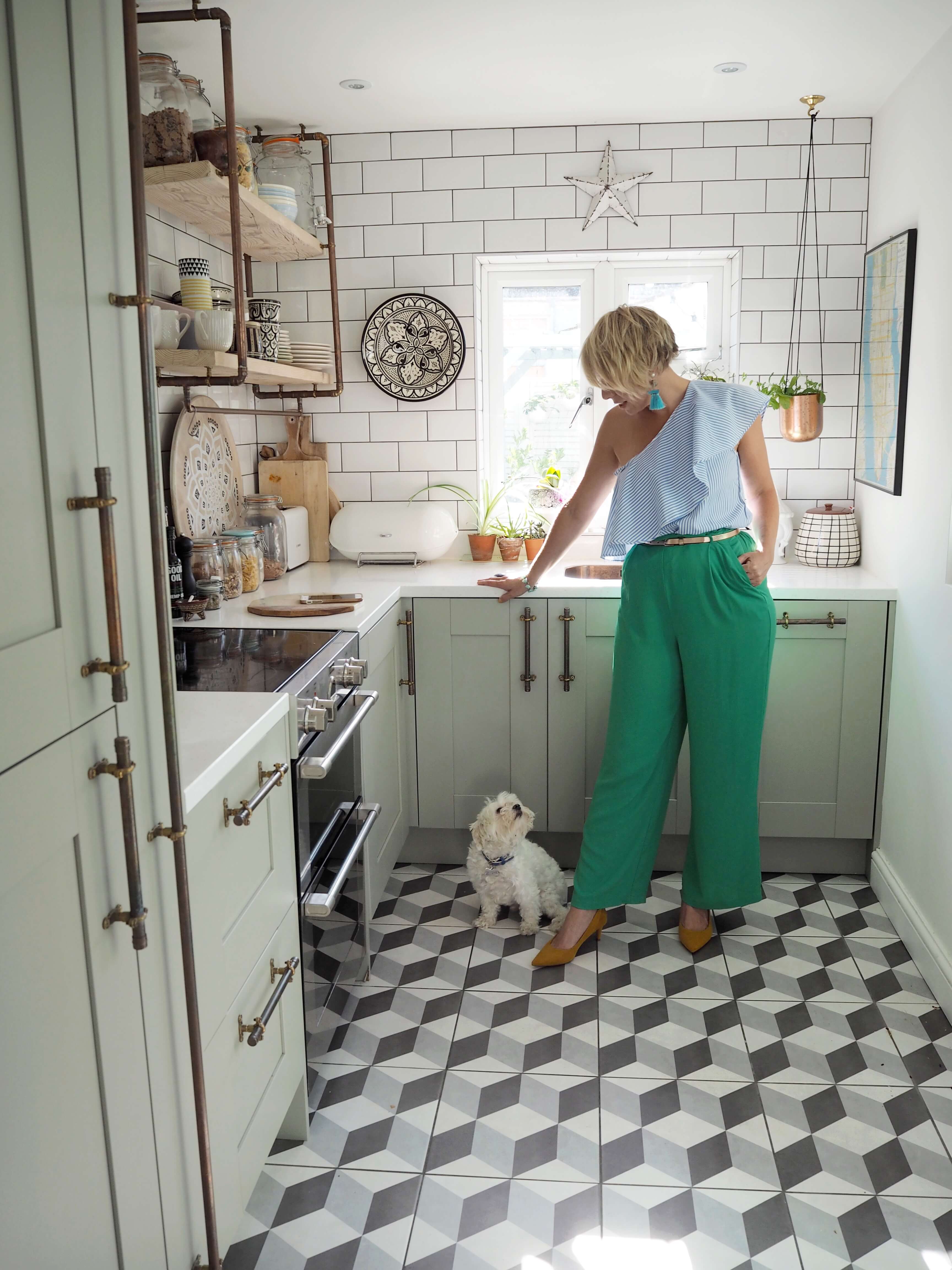 4. MAKE USE OF DEAD SPACE IN HIGH PLACES
I utilised some of the dead space above the refrigerator (and the only upper cabinet) with a flip up cupboard on a hinge. It's up above high so I only put things in there that I don't need that often – like Tupperware (which I have a dangerous addiction too). And my baking stuff and pet food and a few other things that I don't require on an every-day basis.
This Spring, I bought a basket to put all my Tupperware in – so I can grab the basket in one go rather than lids and boxes dropping on my head!
Not only is the up above storage very handy, it also draws the eye upward making my small kitchen look like it has tall ceilings (it doesn't).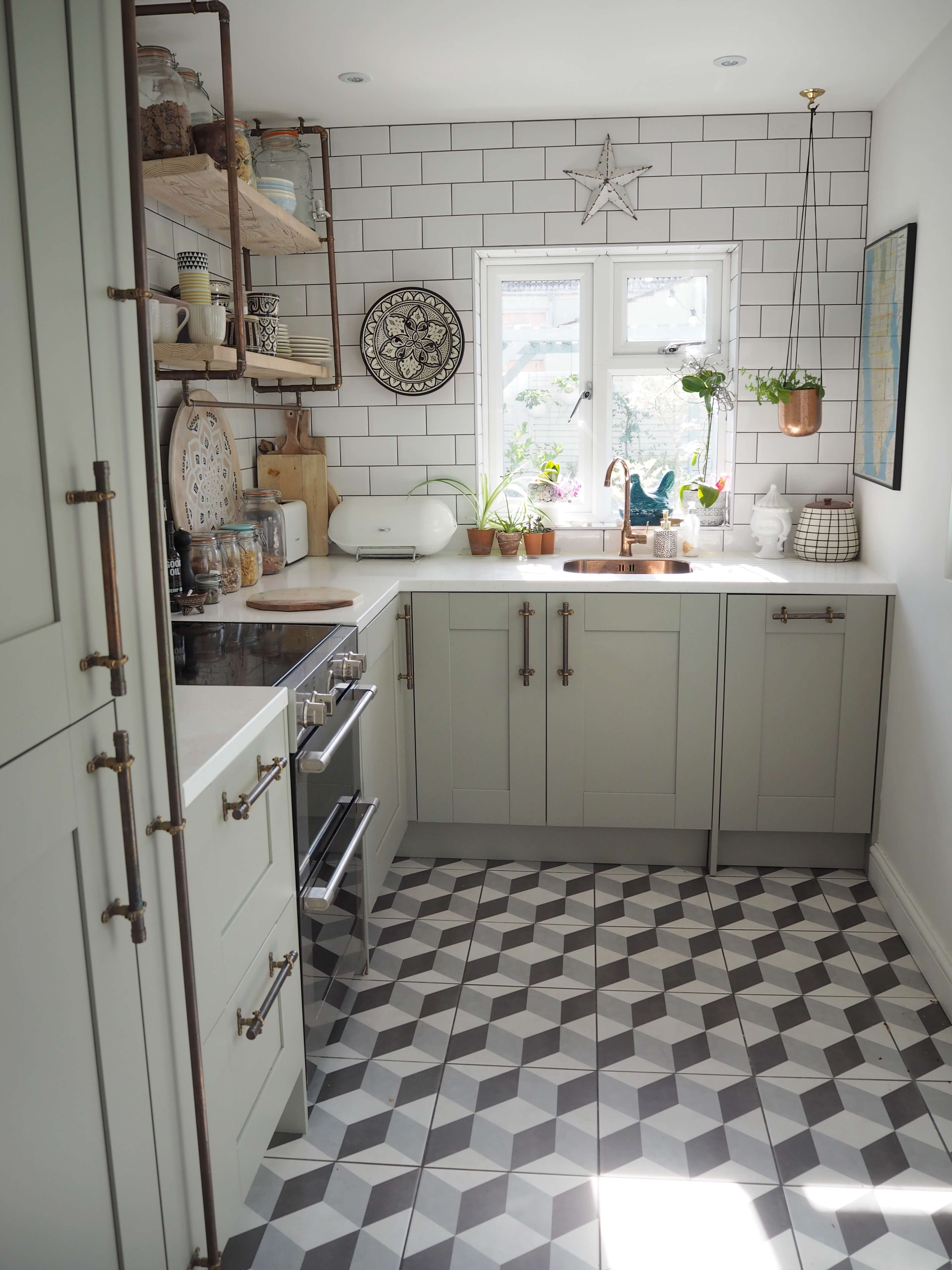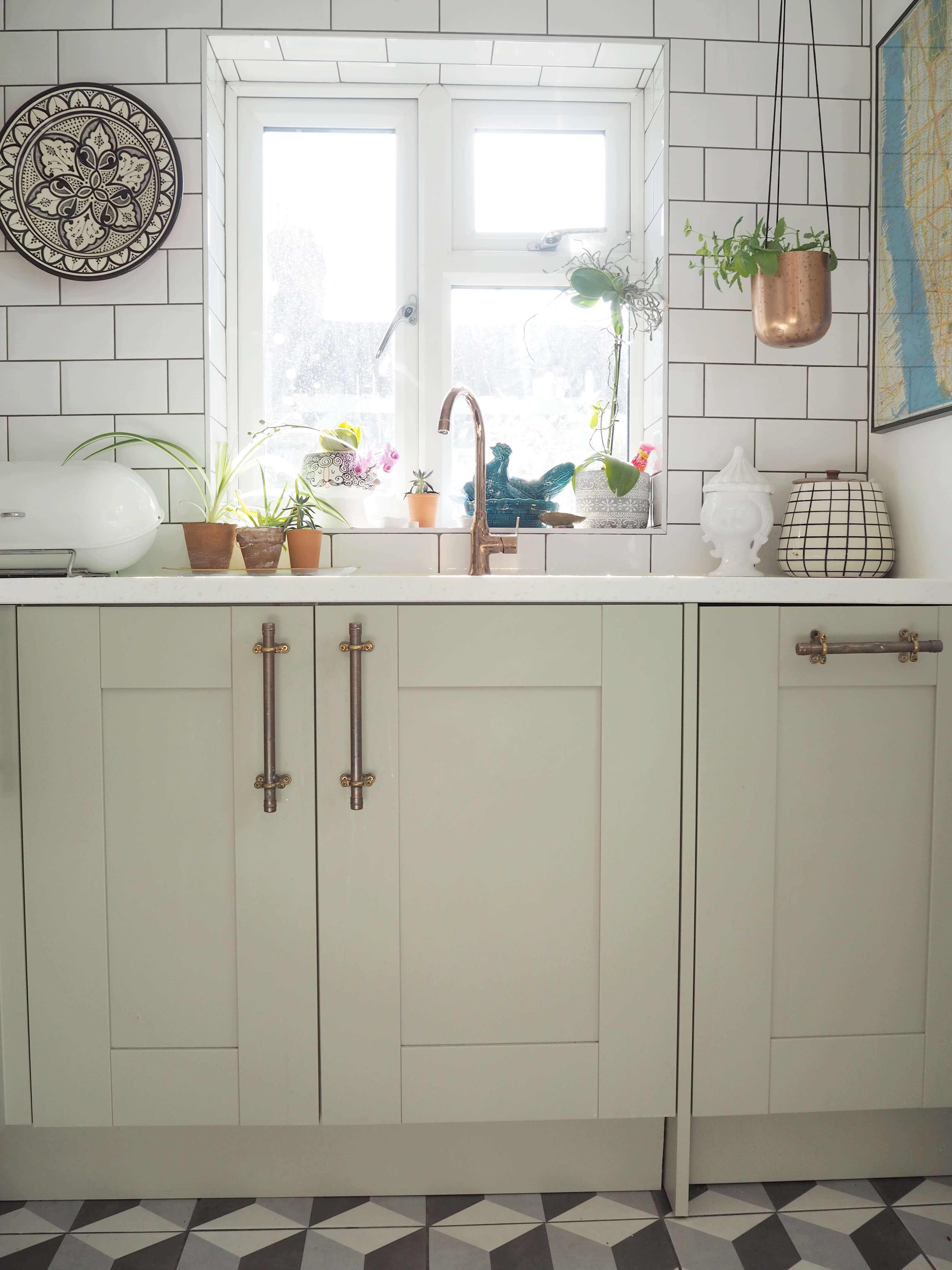 5. PLAY WITH LIGHT AND DARK
I know we all know this – but choosing kitchen units in pale colours will almost always make a space look bigger. Painting the ceiling bright white and then using white metro tiles all all the walls has really helped to make this space feel lighter and brighter. I've broken up the tiling to make the space feel warmer and intimate with decorative plates, a barn star, posters and a hanging planter.
I fell in love with the green sage lower cabinets and patterned floor which are a bit darker so add the element of drama. But I choose white granite style worktops to help keep things nice and bright visually, expanding the space than if I had chosen to use a darker colour throughout. And of course, spotlights in your ceiling are the way forward for brightening things up when cooking at night.
There is another design trick which I dedicated a whole post to which you can read here >> MAKE YOUR KITCHEN LIGHTER AND BRIGHTER WITH THIS ONE TRICK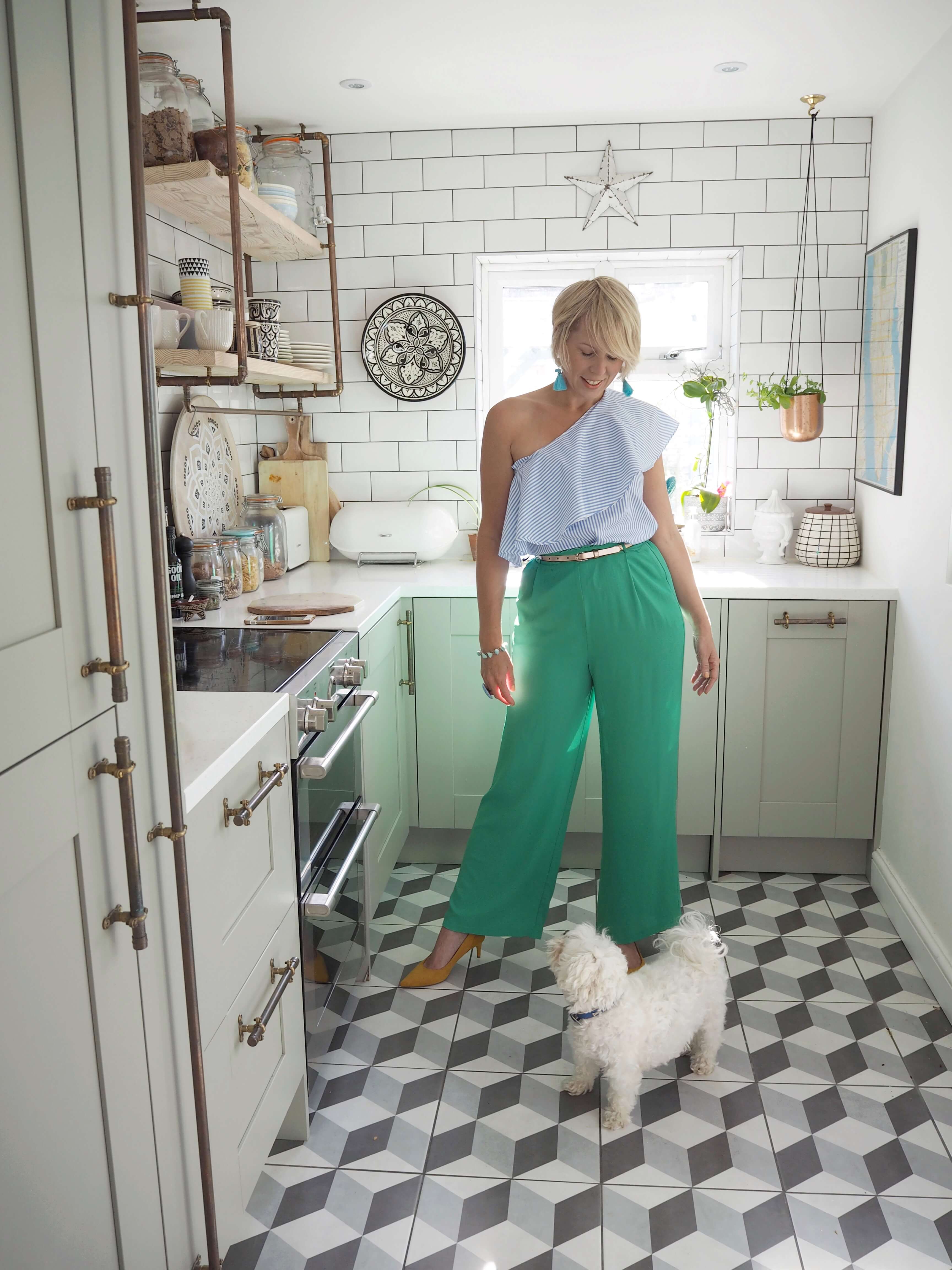 What do you thing of my 5 design tips for small kitchens?
Those are a few of the things that I've done in my kitchen that maximise the space in my home – and will do the same to your small kitchen.
What do you do to maximise your own small kitchen? Have you come up with any clever solutions to make the most of the space you have? Why not share your design tips for small kitchens! Let me know in the comments!
YOU MAY ALSO LIKE
TOP 10 DO'S AND DON'TS TO KITCHEN PLANNING
A FRESH LOOK AT KITCHEN WORKTOPS
6 ELEMENTS THAT EVERY SMALL KITCHEN NEEDS
27 SMALL HOUSE INTERIOR DESIGN TIPS FOR A MORE SPACIOUS HOME
** This is a sponsored post – all thoughts, opinions and photos are my own.