This is the £39.50 Marks and Spencer jumpsuit went viral on Instagram – and then promptly sold out in 24 hours! This is my story on how I managed to get my paws on this jumpsuit with the help of my online friends. And how I can help you get your hands on one too.
Marks and Spencer has been nailing this year, with a new sell-out frock flying off the shelves on a weekly basis. Now, they've entered the jumpsuit game with a
cute polka dot number
that sold out on the brand's website in just 24 hours.
If your Instagram feed looks anything like mine, you've likely been seeing a lot of polka dots recently – mostly in the shape of this epic jumpsuit.
I first spotted it on the feed of Tracy from Trays Lounge (a fashion director and over 40's style inspiration). And as soon as I saw it, I had to have it. The jumpsuit was previewed online ahead of its official launch, with almost all sizes going out of stock almost as soon as M&S announced the news on their Instagram account. Then Tip Tips For Fashion, The Silver Kat and Where's My Money all bagged one – I had to be next!
Within hours of stock dropping on Marks & Spencer's website, the jumpsuit sold out in all sizes. The suit then appears on eBay at over three times the original £39.50 price tag.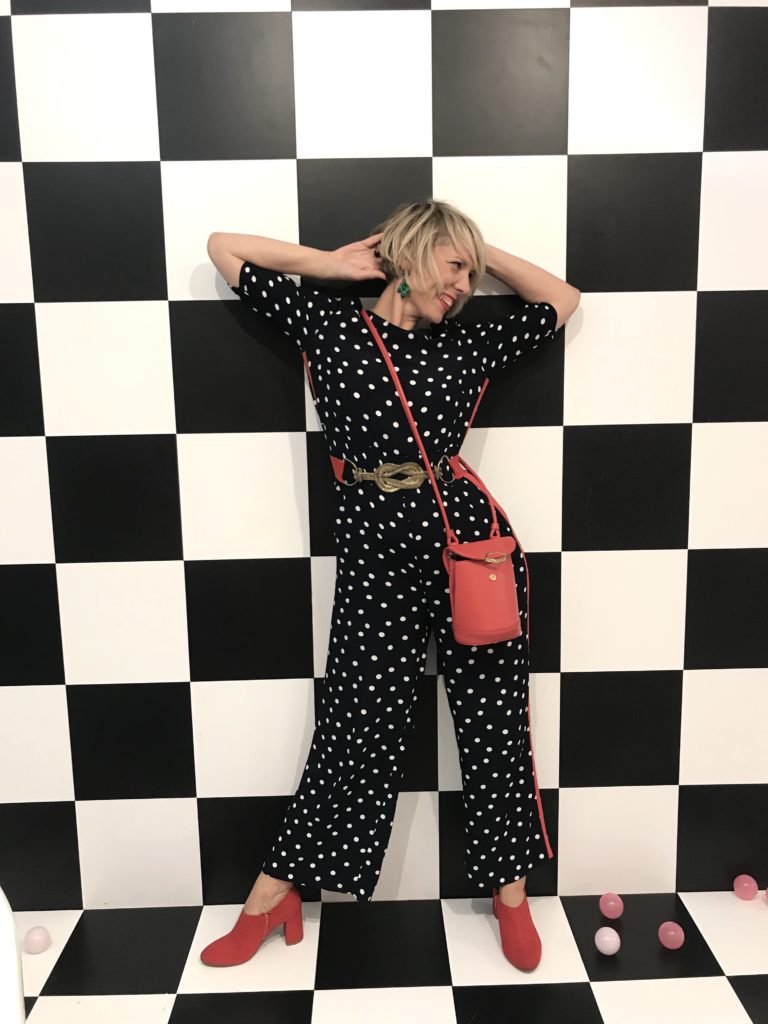 The Shape The Suits Everyone
With its smocked waist, open back, soft navy fabric, ruched sleeves and classic print, it's a super-wearable piece that flatters a range of figures. I had to have it.
I started a plea for help on instagram – asking any of the fashionista's who had bagged one when the next stock drop was. In shopping emergencies likes these, this is where instagram comes into it's own. I had messages from followers alike who had heard of rumours on when the jumpsuit was going to hit the website. One lady even kindly offered to pop into her local store to find it for me.
Then the news came – stock was live on the website – and I had 6 women message me. Within 10 minutes the size 12 sold out, so I popped a size 10 in my basket. Within half an hour all the stock was sold out (again!)
When the jumpsuit arrived, it was the perfect fit – mostly down the the stretchy waist. And ever-so comfy.
I took it out for it's first spin at the pop-up Selfie Factory in Brighton.

How To Style This Jumpsuit
Buy the size down. The size 10 was generous on me! I'm 5'&" and it is the perfect length – but if you are a little smaller you will need to take it up.
The open back got a lot of negative feedback in the online reviews. But I like it – it makes the jumpsuit feel sexy. Wear it with a pretty lace bralette. I like this red velvet one HERE. Or invest in a wrap around bra if you are not a fan of seeing straps.
When it came to styling it, I paired it with a vintage red belt, my M&B red suede boots (an other bargain find from the Spring) and my Lulu Guiness handbag. It's the type of outfit you can dress up with heals and a swipe of red lippy – or how I have been mostly wearing it, with trainers and my All Saints leather bomber for bumbling around town.
Marks & Spencers Is Killing It On-Line
This is not the only outfit that Marks and Spencers have been creating a stir with. They had a leopard print dress in a similar style that sold out instantly, as well as the dress version of this jumpsuit. M&S have started to release outfits like this on-line only which has created a buzz on Instagram with all us fashionistas desperate to own.
Their new collection of Autumn with Holly Willbury's Must-Haves – a range of knits, coats and skirts that will update your wardrobe for winter.  I have my eye on the faux leather ring bag, £35and her Animal Print shirt dress, £49.50 – both so reasonably priced and good quality too.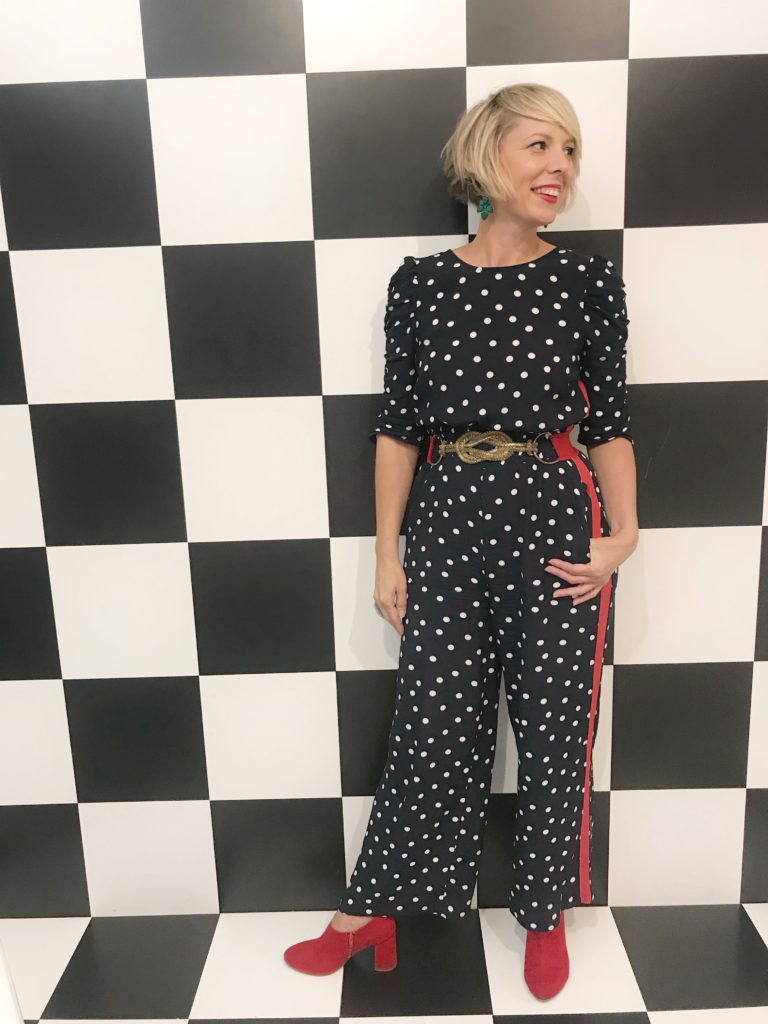 Gutted that you missed out on this jumpsuit? Fear not, as Marks and Spencer have restocked the jumpsuit, and it's available online now HERE – but hurry as I don't know how long it will stay in stock for.
Have I inspired you to look at Marks and Spencer online collections? I hope so – I'm a huge fan.
You May Also Like
10 Tips To Buying Vintage Clothing
Rocking Summer Stripes In Brighton
5 Ways To Find Happiness At Home