My guest bedroom makeover is almost finished (I promise). I've been busy pulling together ideas for how I want the room too look but got utterly stuck when it came to the windows. That was until I met the lovely Mrs J, who is the brains behind Window Hang-Ups –she gave me lots of curtain inspiration that I think you are going to love.]
3 Modern Curtain Ideas For Your Windows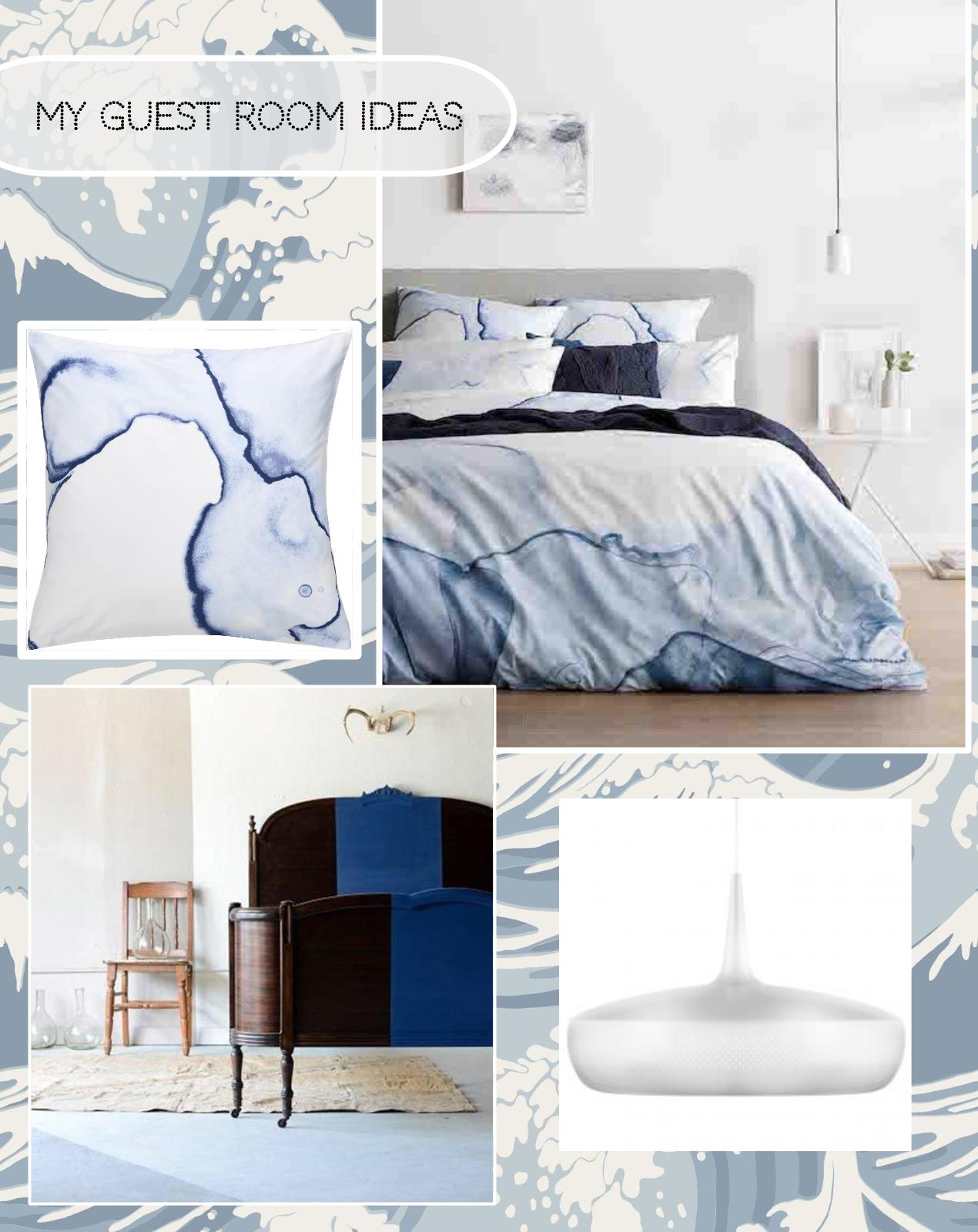 To remind you – here is the mood board of my guest room of how I want it to look. I have hopes! You can read all my ideas for my spare room here.
I met Mrs J AKA Florence from Window Hang-Ups when I shot her house booooootiful home for HomeStyle magazine last summer.
Florence started her curtain and blind company from her dining room table, and now it has taken off. That is becuase she really knows her stuff, sourcing materials from emerging UK talents like two of my personal favourites – Sian Ellen and Bon Maison. All her blinds and curtains are made by a group of lovely ladies in Leicestershire, and where possible all components for blinds and curtains are sourced and manufactured in the UK.
Her home is full of fab patterns and prints – what I loved the most was her bold use of blinds and curtains. I thought – why can't be that brave? She offered (well I sort of asked, you know me) to give me three different options on how to dress my windows to make them look amaziiiiiig. Let me show you
My Windows Before
This is how the window looks at the moment. Bit Meh!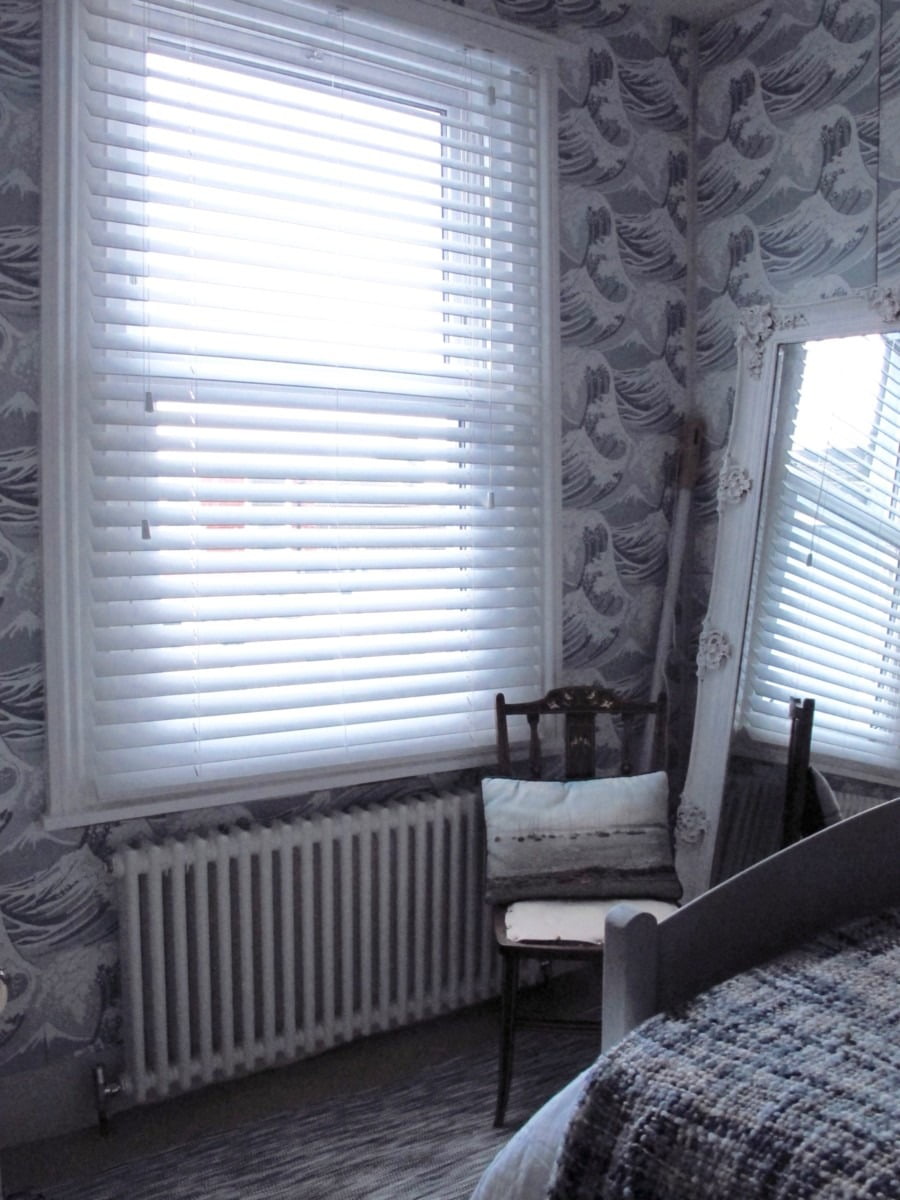 Mrs J: 'I love your choice of Great Wave wallpaper by Cole & Son  – it's stunning. Papering all the bedroom walls makes it a real statement so picking the right curtains is very important. As this is a guest room, it would be great to create a luxurious feel like something you would find in a boutique hotel.'
Now that is exactly what I want – as I AirBnb this room out, I want the space to look and feel like a cool city crash pad.
Mrs J: 'Personally, floor-length is the only option for me and perhaps you could even think about draping on the floor to give the curtains a really sumptuous look which will also be very forgiving if the walls are uneven.'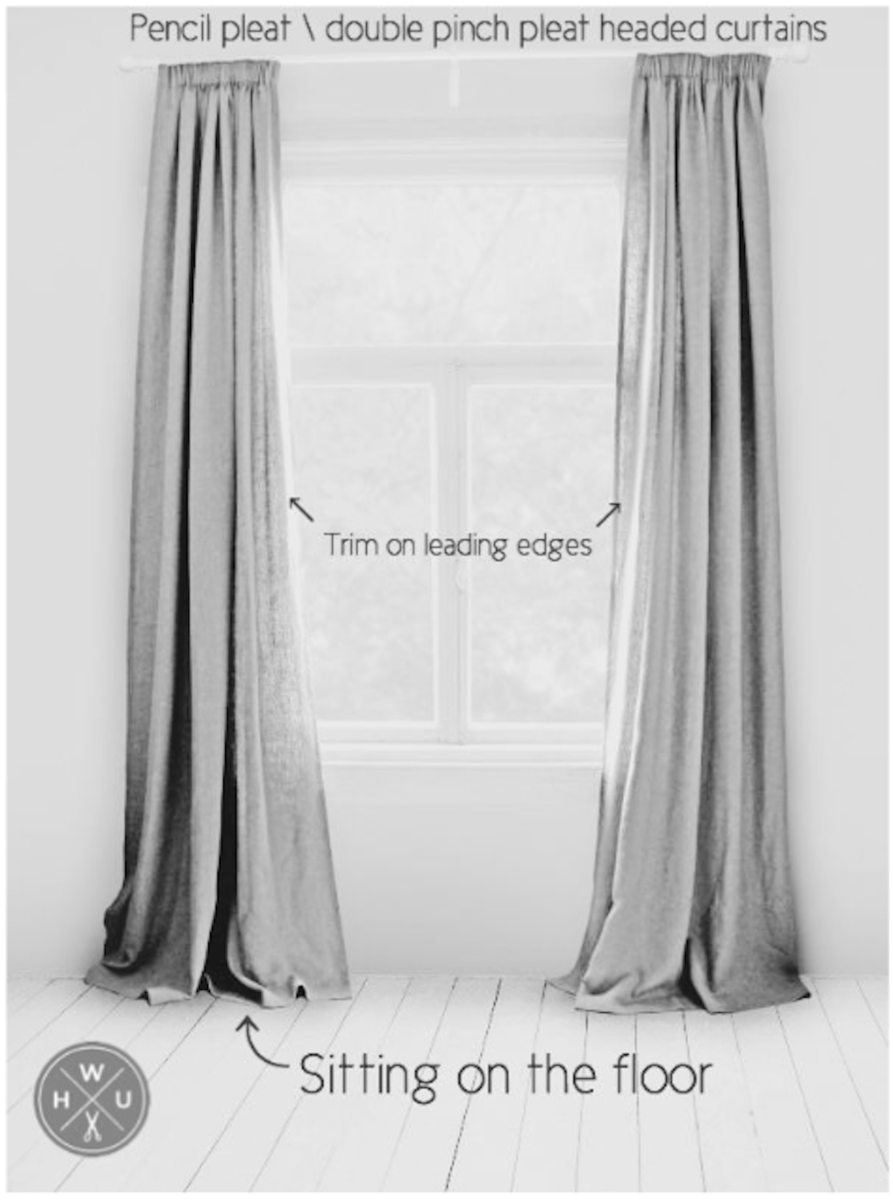 Option one – Print on Print
Flamingo Linen £18.75 // Horse Trellis £58 // Facades Linen £27.50
Mrs J: 'You are definitely the adventurous type and this is reflected in your beautiful home so what better then to give you some quirky options. Flamingo fabric is a fun print with a hint of fuschia pink printed onto a warm linen. The geometric horse print in acid yellow is incredible, or for something a little more subtle I have chosen the Facades print featuring outline drawings of buildings.'
Mrs J suggested I went for interlined pencil pleat curtains, where I Inset the pencil pleat tape down about 5 cm to create a stand-up edge. Perfect for a relaxed bedroom scheme, and suitable for tracks or poles and for medium to heavyweight fabrics.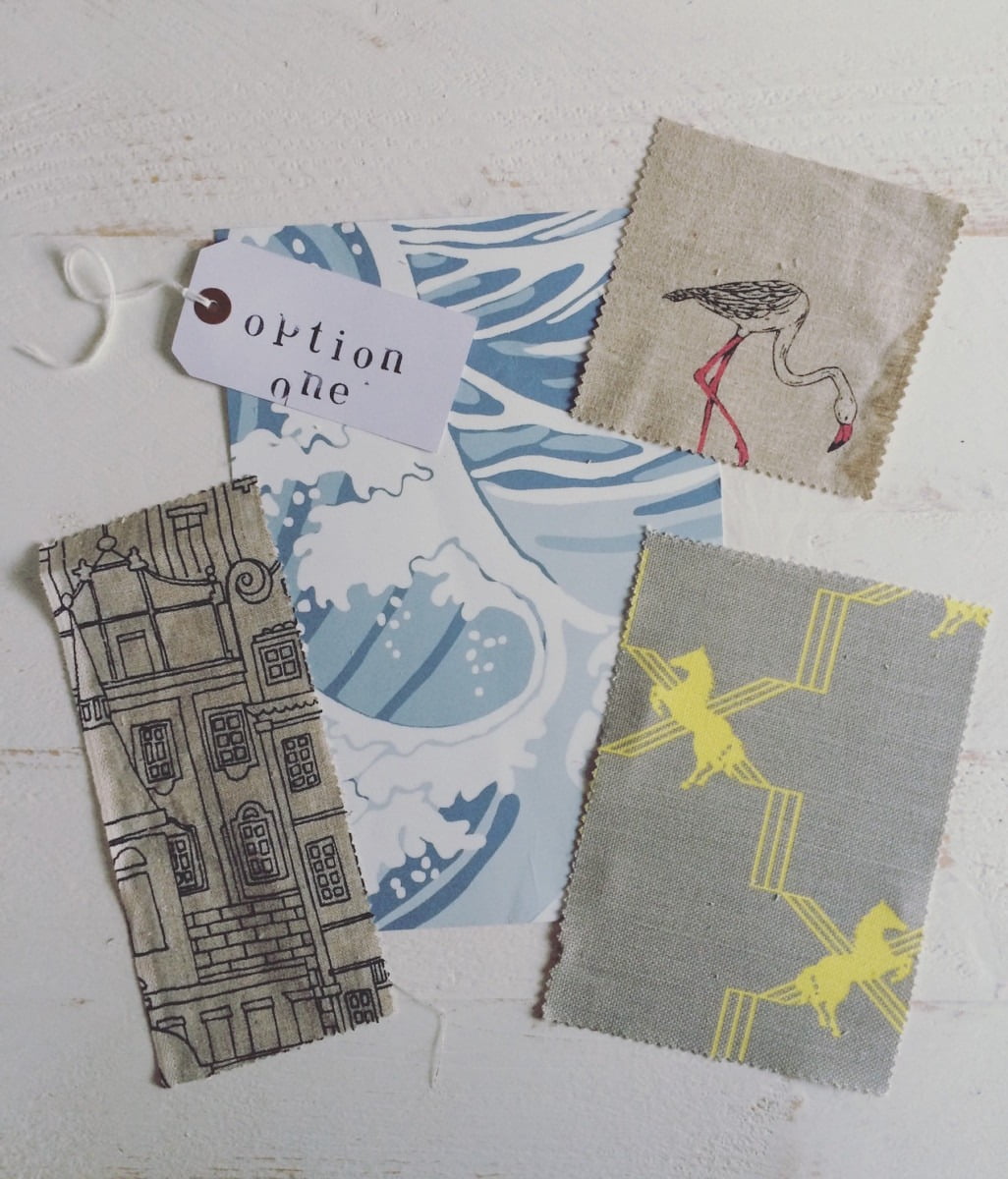 Option two – Coastal
Swallow £19 // 
Penzance £19 // 
Bianco Duck Egg £19.99 // Tranquil £75.00 (double width)
Mrs J: 'Continuing with the theme of the wallpaper and your seaside location I decided to pick coastal themed fabrics. Sophie Allport's Swallow fabric is a fresh summery design. If birds are not your thing maybe try a stripe.
'Penzance has lovely shades of blue, grey and white and a stripe that will contrast beautifully against the waves.
The third option is Ada & Ina linen in Duck egg which is lovely and subtle. Alternatively you could go for Harlequin's Tranquil voile. This glorious floaty sheer features a beautiful abstract horizontal stripe in graduated colours.
For the sheer, Mrs J suggested unlined wave headed curtains.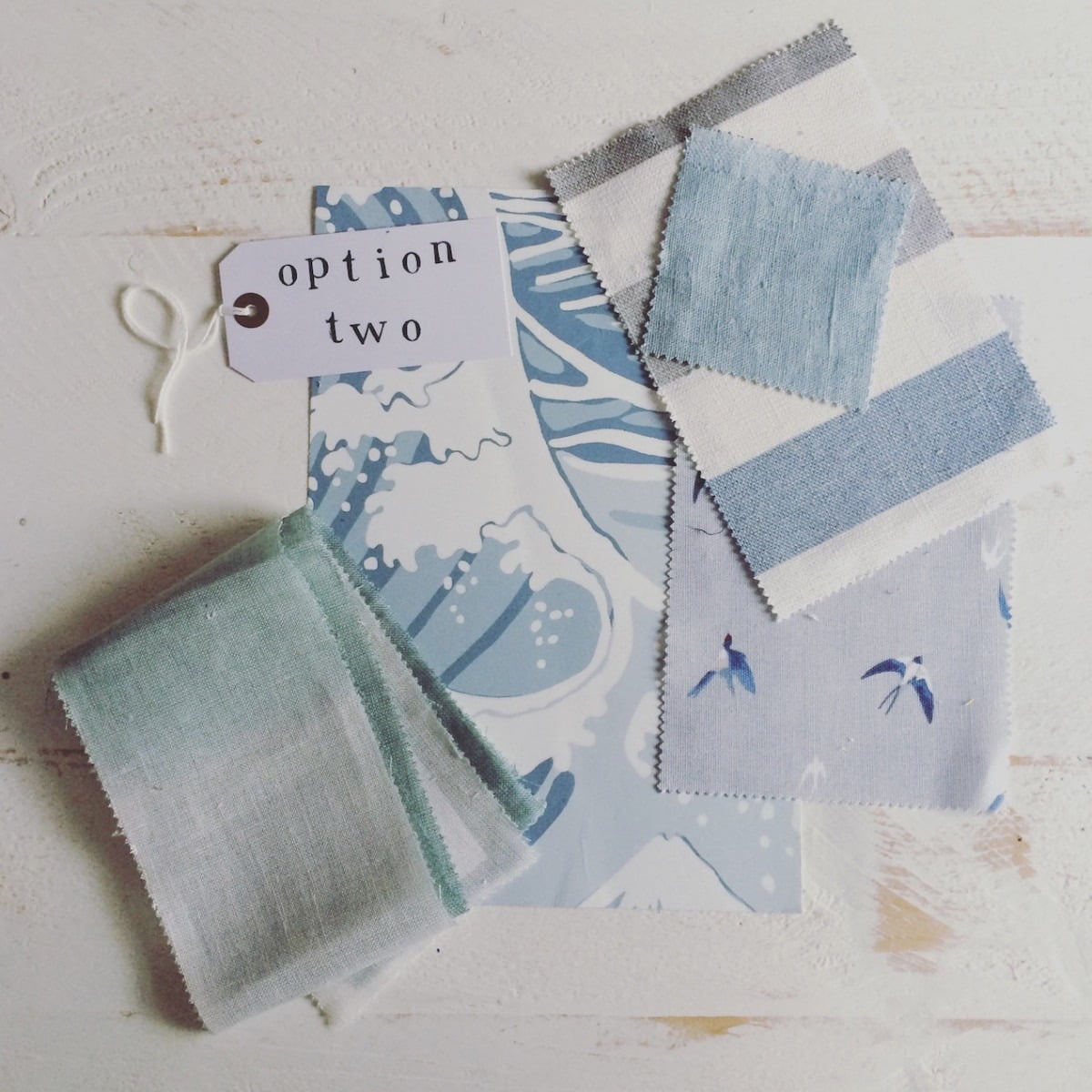 Option three – Timeless Elegance
Petersham white £16
 // Anne White £34.99 (double width) // Poetica Plain Ivory £24.00
 // Bianco pure white £19.99 // 
Patina £85.00 //
Trims:
 Lavardin Fuschia £93.00 //Fabric Lemongrass £52.00 // 
Briati Turquoise £52.00 // 
Lennea Orange £23.99 (Contrast fabric to use on the leading edges)
Mrs J: 'For timeless style I have picked a white linen which is simply stunning in full length curtains. There are a few different fabrics to look at depending on what shade you feel works in the room from bright white to a slightly off white with a subtle shimmer.
Her idea to glam it up new curtains a twist with a fun border or trim was right up my street. I love this idea. I think her pick of wonderful bright trims to contrast beautifully against the white linen.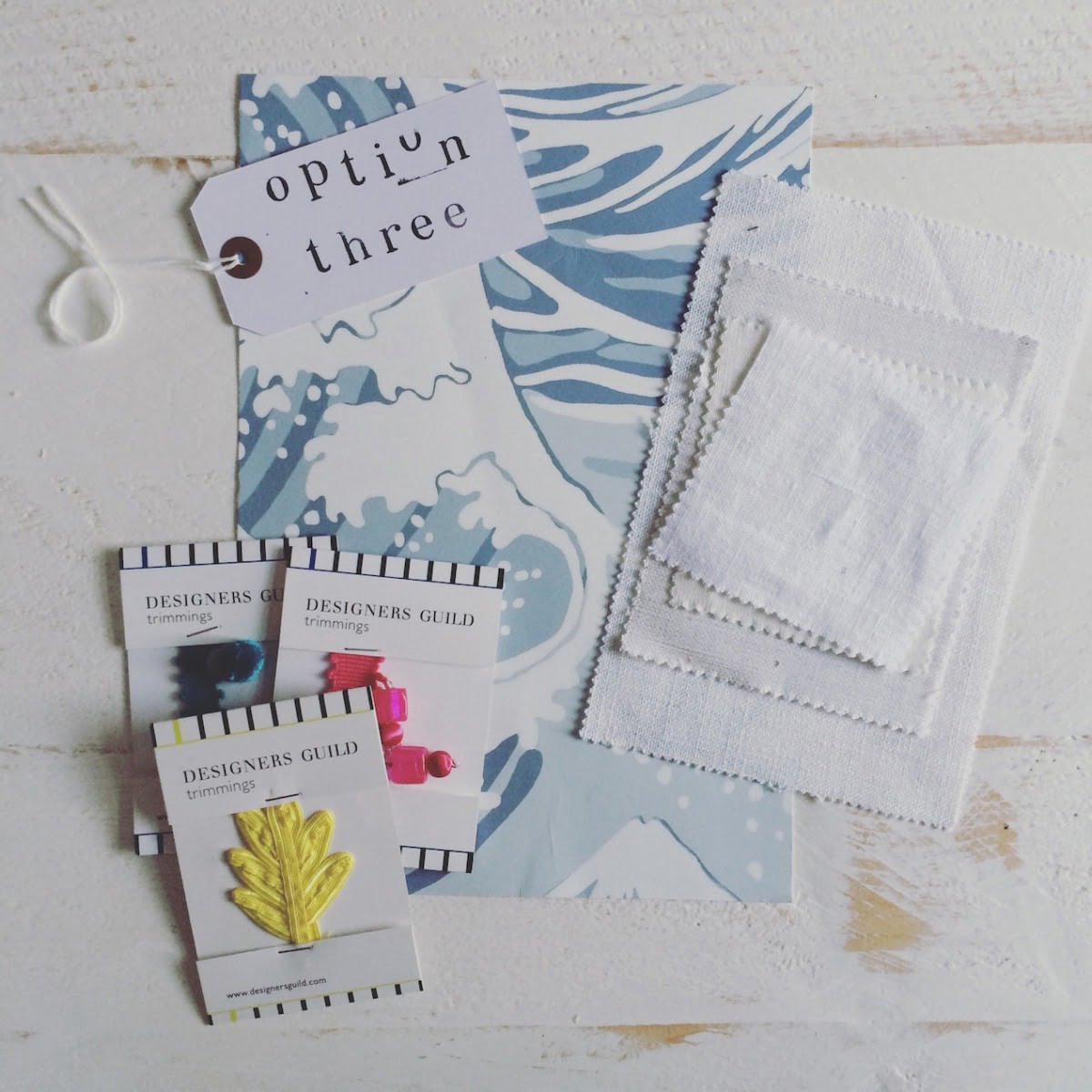 The Next Step
Ooh – it's tricky isn't it? Which one do you love the best? Once I have picked a fabric that I have fallen in love with. I need to send over the measurements of my windows so that I can get a proper quote. I loved calling in experts to help me with my curtain treatment.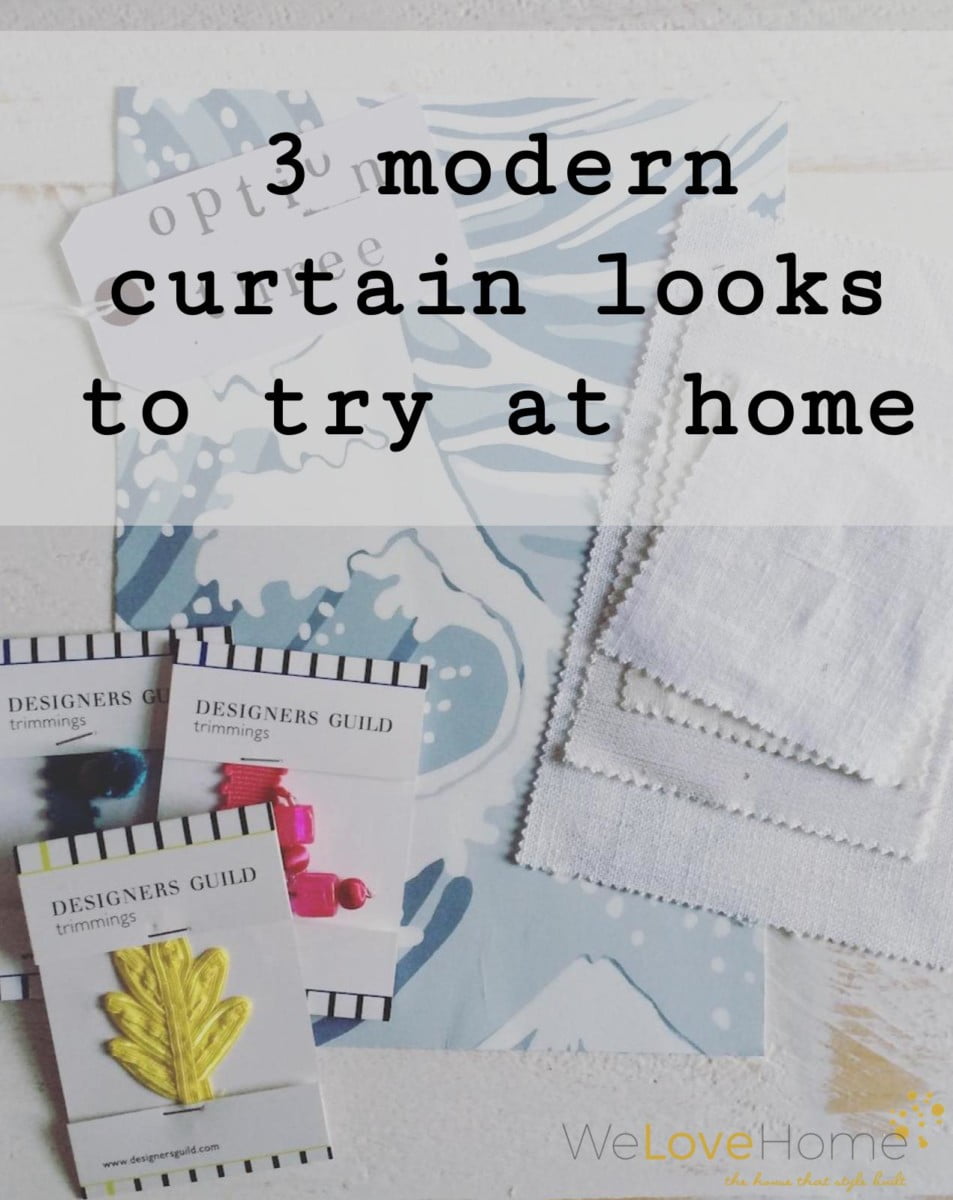 If you want a bit more window inspiration – take a look at Window Hang-Up's website which is filled with shots of her home and her show-stopping blinds. Quite inspiring! Oh, as well as the list of her services (don't worry she makes curtains nationwide).
Now all I have got to do is getting picking. Tough choice. Make sure you come back to the blog and check out the end result when I reveal my bedroom makeover in whole.